MOMOLAND Hyebin Ticket Power, All tickets for the preview of the play 'Contact Line' sold out
The play "Kwanbu Liaison Line," starring Hyebin, a member of the girl group MOMOLAND, sold out simultaneously as the preview ticket was opened.
The play "Contact Line," which hosted the preview ticket opening on February 2, was sold out before the preview, thanks to the participation of female-centered narratives, the participation of recognized creators in the performance world, and the appearance of actors who give faith to the audience.
The play "Kwanbu Liaison Line" is set in the Tokujumaru Government Liaison Line, bound for Busan from Japan. It begins with the imagination that Yoon Sim-deck is alive. At a late hour when everyone is asleep, Hong Seok-Ju, who is hiding in the ship, will find Yoon Sim-deck, who jumped into the sea and make a connection. Although there are conflicts between each other who have lived such different lives, they eventually understand each other, share friendship, and draw their hopes.
Hong Seok-Ju, who hides in the ship to smuggle, stars Momoland Hye-bin, Kim Yeo-won, Hwang Seung-eon, and Jaemin, Kim Hee-ra, and Kim Ju-Yeon were cast as "Yoon Sim-deck" who dreams of Rome's Lucia as the best soprano and tour actors. New actors Lee Han-ik and Choi Jin-hyuk will appear as 'Sudden Boy' to revitalize the drama.
The play "Contact Line," which became a hot topic due to the meeting between writer Lee Hee-Joon, who is drawing attention in the performing world, and director Lee Ki-book, focuses on presenting a perfect performance audience.
A performance official said, "We are thinking about, practicing, and spending time fiercely so that expectations for the performance can lead to satisfaction." "We are preparing hard so that the good energy we feel in work can be delivered to the audience, so I hope you wait a little longer," he said.
Meanwhile, the play "Contact Line" is set to premiere on March 1 and will open exclusively on Ticketlink sometime in February.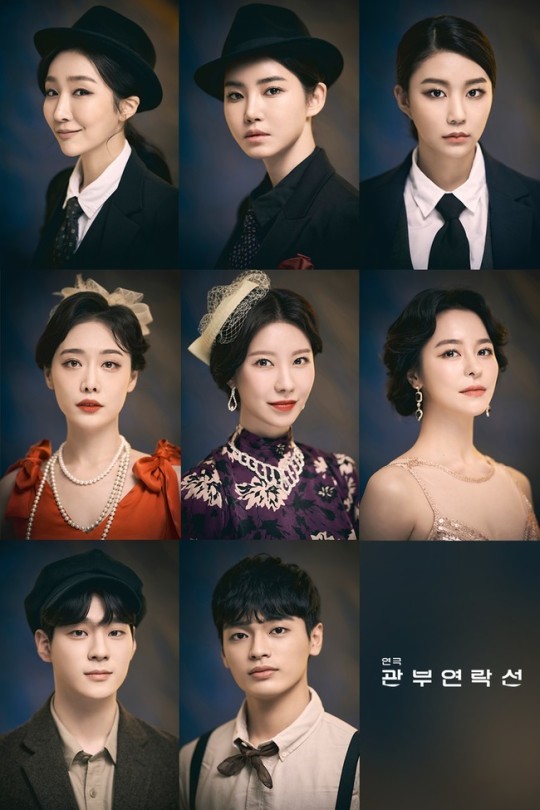 Comedian Kim Min-ki and Hong Yun-hwa's senior gossip, "I'll tell you to put your cheeks."
Gag couple Kim Min-ki and Hong Yoon-hwa captivated the small screen with their unique lovely charm.
In MBC Everyone's entertainment program "Video Star," which aired on the 2nd, Hong Yoon-hwa appeared in the special episode of "Extreme Friendship" with stylists Kim Woo-ri, choreographer Bae Yoon-Jung, and comedian Lee Eun-Hyung, attracting viewers' attention with witty talk.
Hong Yun-hwa showed off her unique lovely charm with past anecdotes. Before his debut, Lee Eun-Hyung said that he had fallen in love with her cuteness and bought her chicken every time even though he didn't have enough. He answered Lee Eun-Kyung's question about his weight shortly because he felt sorry, but he was quickly found out, causing an unexpected laugh.
Also, Hong Yoon-Hwa released a story that the cooking researcher was misunderstood as Lee Hye-Jung, drawing laughter. A citizen said, "Teacher, the abalone paste is so delicious," and she said, "Galbi-tang is also delicious" because she was afraid that she would be embarrassed if she denied it. In response, MC Park So-Hyun also said, "I greeted you thinking it was Lee Hye-Jung before," drawing attention to Hong Yoon-hwa's ability to imitate Doppelganger-like voice.
She was envious of her husband Kim Min-ki and those who showed off her sweet chemistry. The cast texted each spouse, saying that the recording did not go well, and Kim Min-ki was called instead of replying. When Hong Yoon-Hwa gossiped about Park Na-Rae and Kim Sook, Kim Min-ki offered sweet consolation (?), saying, "I'll say cheek-to-cheek," and Kim Min-ki responded surprisingly to the sudden phone call with Kim Sook, making the studio a sea of laughter.
Hong Yoon-hwa showed the charm of pleasant energy by looking at it and colored the small screen with laughter on Tuesday night with delicious talk time with personal talents.
Hong Yoon-was performance, which boasts brilliant talk, can be found on various entertainment programs such as tvN's "Comedy Big League," Mnet's "I Can See Your Voice 8" and YouTube channel "Kkong-Kkong-Kkong."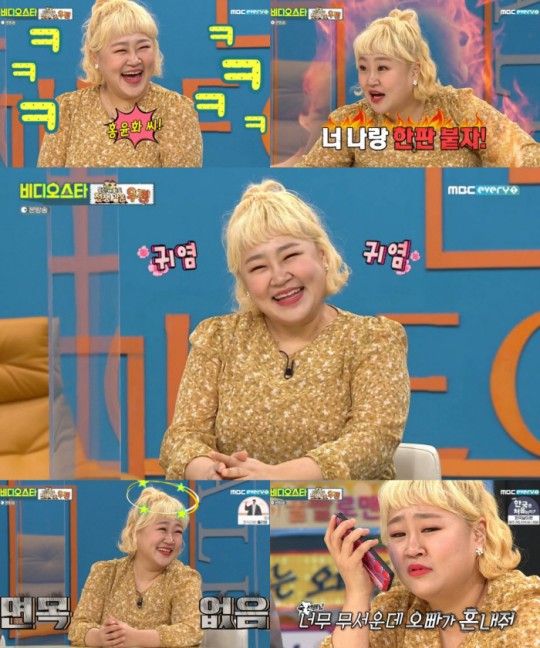 Lovelyz Seo Ji-soo, '7 days only romance 2'ending speech "I got courage."
Lovelyz's Seo Ji-soo delivered her thoughts on ending the web drama '7-Day Romance 2'.
On the 3rd, Seo Ji-soo learned a lot from her agency, Woollim Entertainment, when she met an excellent work called '7-Day Romance'. "I've been dreaming with a vague idea of wanting to act, and I want to thank the 'seven-day romance' team for beautifully unfolding that dream come true.
Seo Ji-soo also said, "Even though it was my first work, I was able to finish it happily because you led me and supported me a lot. While preparing for two series, I was encouraged by acting. "It's too bad that the end of the show is over, but I will become Seo Ji-soo who works harder in many works in the future so that I can return the love and attention I received," he said with affection.
Seo Ji-soo played two roles as a college student Jung Da-Eun, who works part-time at a cafe, and an idol Kim Byul in "Seven Days Romance 2." He made changes in details from appearance to speech, expression, and walking, and correctly distinguished the two characters to increase the immersion level.
In the last episode, which was released on the 2nd, Kim Byul (Seo Ji-soo) and Jung Da-Eun (Seo Ji-soo), who revealed all the truth, returned to their lives and reunited with Han Jung-woo (Shin Jun-seop) and Yoo Ji-han (Gun Il) and ended with a happy ending.
Despite being his first lead role, Seo played the two characters in two seasons, living a completely different life. As he gained positive reviews with his attractive visuals and stable acting, expectations are high for actor Seo Ji-soo's future move.