Moon Ga-young and Cha Eun-woo say goodbye at the end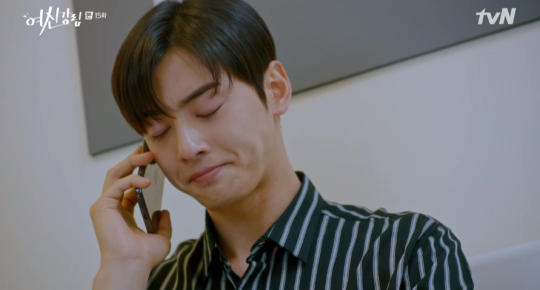 Ga-young Moon and Eun-woo Cha eventually broke up. In'The Goddess Advent' broadcast on tvN on the night of the 3rd, Lim Ju-Kyung's appearances (played by Moon Ga-young) and Lee Su-ho (played by Cha Eun-woo) eventually chose to break up due to long-distance dating.
Lee Soo-ho, who went to the US after hearing the news that his father had fallen, took care of him. After a month, when his condition improved, he decided to go to Korea and spoke with Lim Joo-Kyung. The two were happy with the excitement they could meet after a long time, and Lim Ju-Kyung promised to go to the airport. However, the day she returned to Korea, her dad fell back and went into urgent surgery. Lim Ju-Kyung waited at the airport, and Lee Su-ho did not appear.
Meanwhile, Lim Joo-gyeong was sick and went to the hospital, and Lee Su-ho was sad that he couldn't do anything. After that, when asked by Lee Soo-ho on the phone, 'Is there anything wrong?', I'm Joo-Kyung boasted, saying, "I got a national examination certificate," instead of saying that he was sick. He said, "Dad, I don't know when to wake up, but it's honestly hard for you to wait. I'm so sorry that I can't even stay with you because I'm sorry for you." Im Joo-Kyung cried, "Who told me to be sorry? I'm okay, why is that?" and said, "I hate me, break up. It's okay if you're there for the rest of your life. You need to collect money and go back and forth," Lee Soo-ho said, "You are going to school well, do not wait for my phone call and sleep well." Lim Joo-Kyung hung up the phone and wept, saying, "Don't say that like it was the last time."
They broke up like that. On the other hand,' Goddess Advent,' which is broadcast every Wednesday and Thursday at 10:40 pm on tvN, overcomes the appearance complex through makeup', and Ju-Kyung, who became a goddess, meets Suho, who has wounded her male mother, and grows by sharing each other's secrets. This is a romantic comedy that restores self-esteem, based on the popular webtoon of the same name.
Park Ki-Woong and Lee Sun-bin admired the fantasy House' that satisfied the romance.

SBS's "My Fantasy Book," which aired on the 3rd, featured actor Park Ki-Woong and Chungmuro's popular actor Lee Sun-bin. Park Ki-Woong first revealed his younger brother Park Ki-Seung, who has been living together for five years. Park Ki-Seung, currently working as a nurse at the Korea Hematopoietic Cell Bank Association, was surprised to see his handsome face as warm as his older brother.
Park Ki-Woong said, "I've heard a lot since I was young that I don't look alike. "These days, people around me say that my younger brother is handsome these days, and I am old-fashioned." Asked by the production team if they often fight when they live together, the two boasted of their unusual friendship, saying, "I've never fought since I was born." Park Ki-Woong said, "I've never fought because my brother is nice," and Park Ki-Seung showed off his affection, saying, "I'm confident that I have a person next to me who is 100% on my side."
Since he was young, Park Ki-Woong, who has shown outstanding talent in music and art, said, "I hope to be an artistic inspiration house." In particular, he/she, who also worked as a vocalist in the high school band, asked for a fantasy book with a music space where he/she could focus entirely on music. Park Ki-Seung, who is more talented in art than his brother, wanted an independent pottery space with a spinning wheel and a kiln. Park Ki-Woong said, "My younger brother has been good with his hands since he was young. I wanted to work in pottery or patissier, but I became a nurse on my parents' recommendation because it might not be stable. "My younger brother is thirsty (for art), so he still works in pottery."
The two also requested a flower-rich garden, a cozy, warm-hearted interior made of wood, and a glass ceiling to see the sky, raising expectations for fantasy houses. The house containing the brothers' dreams was located in Icheon Ceramic Art Village. The house, where the warm-feeling wooden interior caught the eye, impressed the brothers. If you open the sliding door installed in the living room, there is an atrium space and a cozy bedroom where you can see the sky, and a small room even has an attic. Also, the little garden and the corridor connecting the space were fantastic. Professor Yoo Hyun-Joon said, "The roofs are structures that go along the corridor, and there is a middle-rise, and this house is a two-story house, and I think the spatial structure is similar to Gyeongbokgung Palace."
The two spaces that led to the corridor touched the brother's Park Ki-woong as a ceramic workshop with hundreds of ceramics on display and a music appreciation room where people could listen to music while watching the open garden view. In particular, Park Ki-Woong said, "I'm a little saturated."
MC Park Mi-sun said, "I heard that today's guests are looking for a house to be with someone more precious than themselves." In response, Jang Sung-kyu indirectly mentioned Lee Kwang-soo, who is in an open relationship with Lee Sun-bin, saying, "Is he tall enough to live with?" Lee Sun-bin burst into laughter, saying, "Some people are tall." Lee Sun-bin, who was usually interested in the home, said, "I think I have a dream about home and a fantasy." "I have 100 percent of my desire," he said, visiting various repertoires since his first meeting with the production team. "I think I can fill up my personal feelings by wrapping it up as a shooting."
Lee Sun-bin unveiled his house for the first time on the show. He said he was living in the dark with two puppies and an apartment in Seongdong-gu for monthly rent, and he lived in the dark even in the middle of the day with curtains all over and mood lights on. Lee Sun-bin said, "I've been suspicious of myself. That's why I'm in a slump." After his hard trainee days in the basement, he moved to an apartment after gaining popularity as an actor, but at some point, he suffered a slump and failed to take proper rest at some point. "I want to rest happily," he said. "I want to heal happily without any worries and worries.
Lee Sun-bin, who usually likes nature, expressed his wish to have a Jung-Jung like a secret space where privacy is protected, although it is an open view of fantasy. He also asked for a comfortable bedroom where he could relax and a terrace and hideout to share tea time with his friends. "The most important thing is all my friends. Therefore, I hope that public transportation will not be burdensome. Jang Sung-kyu, who heard Lee Sun-bin's fantasy book, said, "I think the floor should be high. A person over 190 centimeters tall could come as a guest," he said, drawing laughter by mentioning Lee Kwang-soo again.
Meanwhile, Fantasy House, located in Yeongjongdo Island, Incheon, was a place that satisfied Lee Sun-bin's self-interest 100%. The house itself was Lee Sun-bin's imaginary house, including a yard, an indoor garden, a cozy hideout, and a secret courtyard under the wall. Also, indirect lighting was installed throughout the house to create a more comfortable atmosphere. Lee Sun-bin, who was amazed from the moment he came home, expressed his overwhelming feelings, saying, "It was a series of surprises from the moment I just came in, and I was excited every time I turned my head."