Confession of request for 100 million down payment to JYP
Ayumi, Bae Seul-gi, Baek Bo-ram, and Jung Ga-Eun showed off their excellent entertainment skills. MBC Everyone's "Korean Foreigners," which aired on the 3rd, featured Ayumi, Bae Seul-gi, Baek Bo-ram, and Jung Ga-Eun as a unique feature of "Old sisters" at the time when they dominated entertainment shows in the 2000s.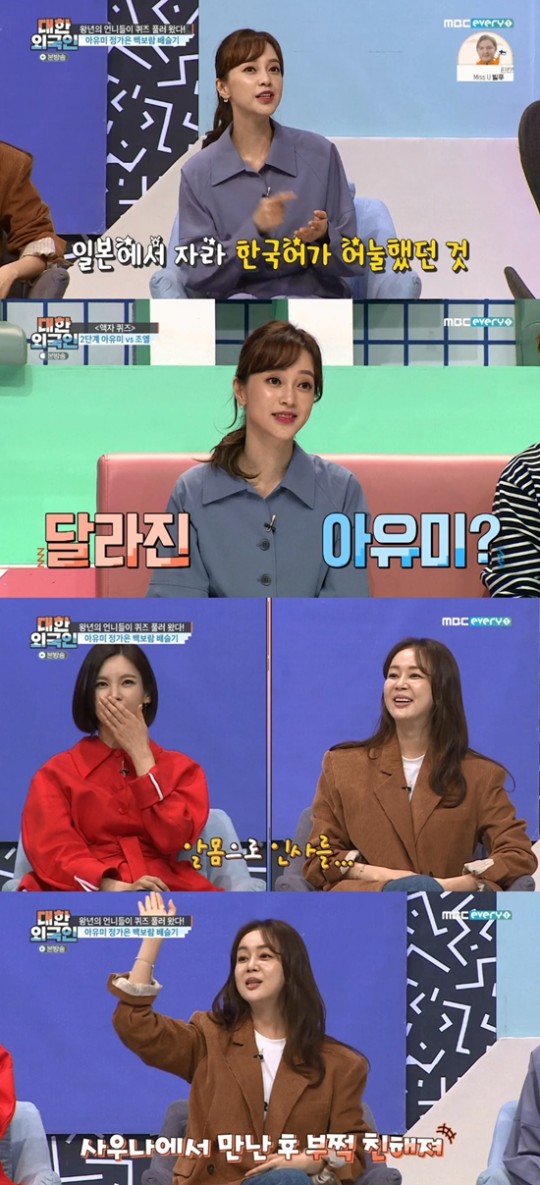 On this day, Ayumi said, "Hello, I'm Suga Ayumi." Ayumi revealed that she was a third-generation Korean-Japanese, Jeonju Lee, and explained, "I was born and raised in Japan, so my Korean was poor." Jung Ga-Eun and Baek Bo-ram then confessed their first encounter. Baek Bo-ram said, "I like saunas. "They greeted me naked," she recalled.
"There is a place to rest in a gown," said Baek Bo-ram. Jung Ga-Eun must have been so happy to see me. I was covering a towel, and he said hi to me. "But the towel was dripping down," he said. "Jeong Ga-sun greeted me with confidence. "I've been a sauna friend for ten years. In response, Jung Ga-Eun said, "I strongly recommended me as a member of Infinite Girls. Maybe the meeting was impressive at that time." Baek Bo-ram said, "I met him at the sauna, and he looks like a crazy person."
Baek Bo-ram said, "I'm not that stupid," about his last appearance in entertainment shows as a pure character. Baek Bo-ram noted, "There was pressure to remain foolish because I was faithful to my character. "I don't have much knowledge, but I have a good sense," he said.
Ayumi also surprised viewers by saying that she is studying simultaneous interpretation. Ayumi, who dreamed of seeing Sharon Choi, an interpreter for director Bong Joon-ho, said, "I felt like I had to do a side job." He said, "In Korea, people who have a wide network are said to have "wide feet." In Japan, however, he expressed his difficulties in studying, saying, "My face is wide."
Meanwhile, just before her career, Jung Ga-Eun confessed that she was still regretting it. "I was Miss Korea in 2001. When it comes to Miss Korea, a large agency will test cameras. "I got a camera test because SM told me to come, but I haven't heard from him since." However, JYP talked about the contract with Jung Ga-Eun.
But Jung Ga-Eun said, "It was 2002, and I was making pretty good money on home shopping. He thought he would not be able to do home shopping if he joined an agency, so he asked for 200 million to 300 million won as a down payment. "I haven't heard from him for 19 years," he said, drawing laughter from the cast.
Yoo In-na's unrivaled elegance.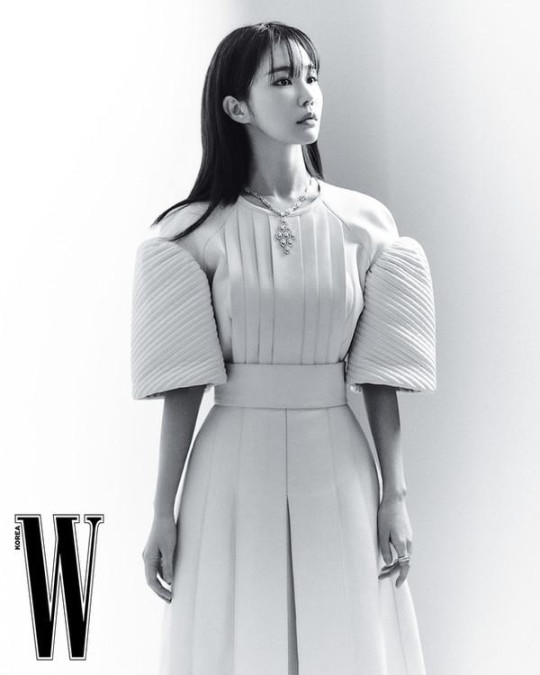 Actress Yoo In-na showed off her unrivaled charm and beauty through a magazine pictorial.
The fashion magazine "W Korea" has released a photoshoot for its February issue with Yoo In-na.
In the released pictorial, Yoo In-na looks at the side wearing a leather dress and sparkling jewelry. Yoo In-na's calm and elegant atmosphere boosted her sleek charm. Yoo In-na also correctly digested knit tops and hexagonal pattern earrings with slit points, giving off her unique pleasure with chic poses and deep eyes.
In a pictorial interview, Yoo In-na answered "good people" when asked what people close to her had in common. When asked about the definition of "goodness," he said, "Being nice is smart. Good people don't tolerate it because they don't know it, but they endure it from the heart of thinking about their opponents even though they are penetrating. He is considerate of the other person because he/she may be upset even though he/she has enough things to explain and reasons to himself/herself in a situation that may cause anger and irritation," he/she said.
In 2021, Yoo In-na will never stop working hard. Yoo In-na will be the MC of MBC's entertainment show "Phone Cleansing," which will premiere on the 9th. The movie "New Year's Eve" (director Hong Ji-young), in which Yoo In-na played the perfectionist rehabilitation trainer Hyo-young, is set to be released on the 10th. She recently announced the news of her casting confirmation as Kang Chung-ya, a surgeon at the National Medical Center with a deadly charm, in the JTBC drama "Snowdrop."
Meanwhile, Yoo In-na's pictorial and interview details can be found on the February issue of W Korea and the official website.
Hyun-ah, "Mi-Joo-Kyung-Sung fainting with lots of support."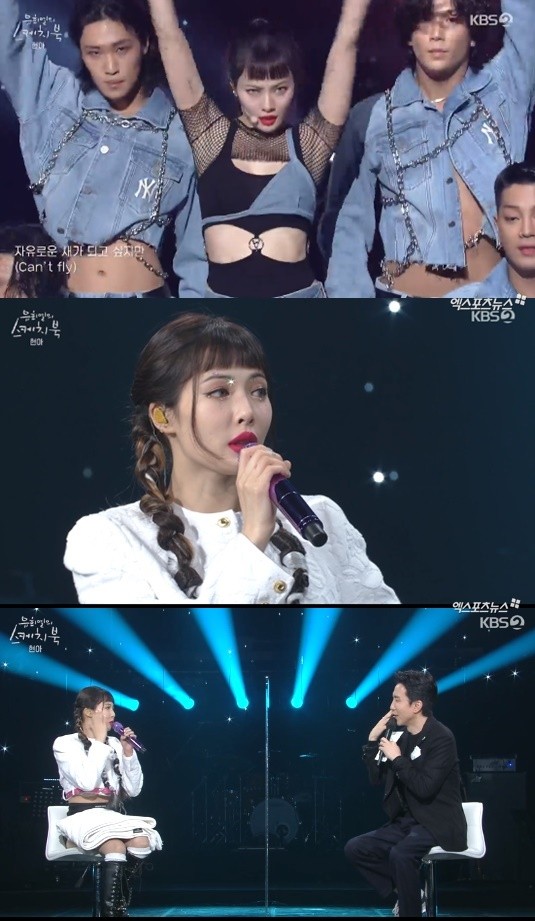 "Yoo Hee-yeol's Sketchbook" Hyun-ah is back.
In KBS 2TV's "Yoo Hee-yeol's Sketchbook," which aired on the 29th, Hyun-ah was unable to work due to health problems at the end of her preparation for her activities in August last year.
Hyuna, who performed "GOOD GIRL," said, "I didn't know either, but it's been so long since I've been here. "I turned 30 this year. Yoo Hee-yeol said, "Oh my god. "When I think about Hyun-ah, I still remember her energetic young self," she was surprised.
In response, Hyun-ah said, "It's been well over ten years since I debuted. "I think I've changed a lot.
Hyun-ah said, "Many people cheered for me a lot. I have low blood pressure because of my microcephaly. When blood pressure dropped frequently, he often collapsed for a short time. "This is the first time I've talked about it, and I gained a lot of strength because there are many people who feel the same way as me."
"I love dancing and being on the stage, so I think it's okay every time. But it wasn't okay afterward. I exercised a little more and managed my physical strength. "Now I'm better than I can be," he said with a smile.